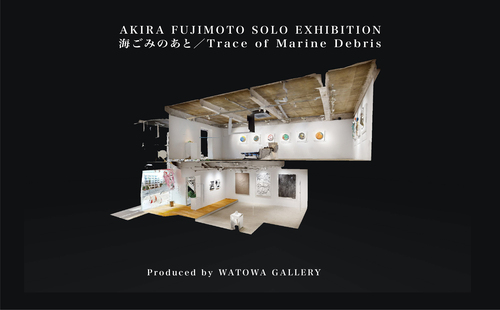 *img クリックしていただけると 3D VIEWINGが見れます。/3D VIEWING by 3D ARCHIVE / ARCHI HATCH
AKIRA FUJIMOTO SOLO EXHIBITION にご来場頂いただきありがとうございました。
 elephant STUDIOでの展示は終了となりますが、引き続きは
WATOWA GALLERY では、3D VIEWING を行っております。
今回来られなかった方も、是非AKIRA FUJIMOTOの作品を3D空間でもお楽しみください。
///
なお、引き続きは今回の展示作品3D VIEWING にて気になる作品やご購入希望の方等いらっしゃいましたら、お問い合わせいただければ幸いです。
▶︎問い合わせ info@watowa.jp

_______________________________
Graduated from the Tokyo National University of the Arts design department. After enrolling at FABRICA (Italy), after working as a part-time assistant at the Tokyo National University of the Arts intermedia department, currently works as an artist both in Japan and abroad. Artwork motif is a social phenomenon that can't be controlled by humans, making use of various media and methods, one of biggest projects are  Main projects are "NEW RECYCLE®" and "Fountain" series that are present in this new exhibition called "Trace of Marine Debris"

This time Akira Fujimoto invites us to face the tremendous issue of plastic, and waste in general. This time he focused on marine debris, collecting images with his camera, visiting the coasts and the sea from Japan.
In "Traces of Marine Debris" Akira uses plastic residues found on the shore and images of those landscapes packed with plastic waste, documenting a terrible reality through vivid colors creating a distinctive and peculiar aesthetic.